Rare Wine Weekend Januari 2019 Mittrinker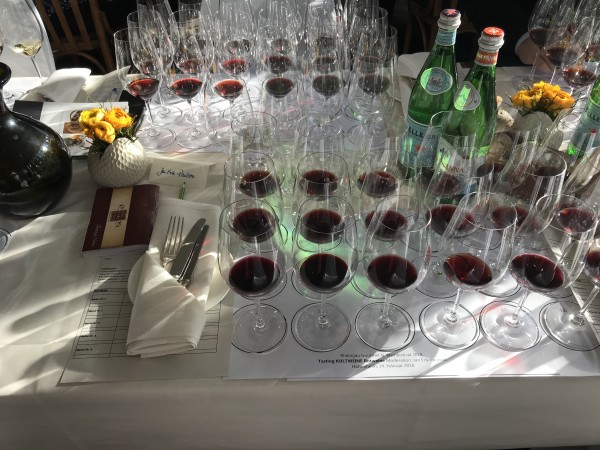 Seit Jahren arrangiere ich Wein-Dinner mit Freunden im wunderbaren Hotel...
more
Product information "Rare Wine Weekend Januari 2019 Mittrinker"
| | |
| --- | --- |
| Ort: | Hotel Kronenschlösschen, Hattenheim |
| Veranstalter: | Paulson Rare Wine |
| Datum: | 18.01 - 19.01.2019 |
Description
Seit Jahren arrangiere ich Wein-Dinner mit Freunden im wunderbaren Hotel Kronenschlösschen - diese Events, in eleganter und dennoch entspannter Atmosphäre, sind stets spannend und unvergesslich.
I have been arranging wine tastings and dinners in the wonderful Hotel Kronenschlösschen in Rheingau for many years now and they have always been memorable events.
Kommendes Jahr im Januar (Fr. 18.01.2019 – Sa. 19.01.2019) beginnen wir am Freitagabend mit einem Marques de Riscal Dinner.
Zum 6-Gänge-Menü werden 25 Weine Marques de Riscal - einem der ältesten Weingüter Riojas - beginnend ab 1922 getrunken.
We will this year start with a 6 course dinner on Friday evening presenting 25 wines from Marques de Riscal starting from 1922.
Samstagmittag genießen wir bei einem 3 Gänge-Menü folgende Weine:
Saturday luncheon will be a 3 course menue accompanied by the following wines:
NV Krug Grand Reserve, 1966 Moet & Chandon Brut Imperial und 1975 Cuvée William Deutz
1949 Bastor La Montagne, 1959 Vouvray Haut Lieu und 1969 Vouvray Clos du Bourg
1928 Ducru Beaucaillou, Léoville Las Cases und Montrose
Am Abend geht es dann weiter, mit einem 6-Gänge-Menü mit jeweils drei Weinen zu jedem Gang. Unten die geplanten Flights (diese können sich noch geringfügig ändern).
On Saturday evening we will be enjoying a fabulous six course meal with three wines with each course. Below are the planned flights (there could be some minor changes).
Château La Madeleine, Château La Gaffelière und Château La Dominique
Château Grand Puy Lacoste, Château Lagrange und Château Léoville Las Cases
2 Grosse Weine in Magnums:
1959 Château Margaux und 1949 Clos de Vougeot
Chambertin, Vina Real Especial CVNE

(100 Punkte in The Wine Advocate)

und Barbaresco
Château Haut Brion, Vina Real Reserva Especial CVNE
(100 Punkte in The Wine Advocate)
und Assmannshäuser Spätburgunder
1939 CVNE Corona Semi Dulce
(100 Punkte in The Wine Advocate),
1949 Château Climens und 1959 Château Coutet
Zu diesen großartigen Weinen wird Simon Stirnal – ein aufsteigender Stern am deutschen Gourmethimmel – uns mit seiner hervorragenden Küche verwöhnen.
It is a great pleasure to drink wine legends with the sensational food from Simon Stirnal.
Bitte beachten Sie, dass nur eine sehr limitierte Anzahl von Plätzen zur Verfügung steht. Daher empfehlen wir Ihnen, eine rasche Anmeldung, um an diesem einzigartigen Event teilnehmen zu können.
Please note that we only have a limited number of seats available, so we recommend that you make your reservation as fast as possible in order to take part in this great event.
Termin: Freitag 18 - Samstag 19. Januar 2019
Ort: Hotel Kronenschlösschen, Eltville.
Date: Friday 18 - Saturday 19. January 2019
Place: Hotel Kronenschlösschen, Eltville. About 30 minutes by car from Frankfurt Airport.
Preis der Verkostung: 2.000 Euro pro Person.
(Wenn sich zwei Personen ein Glas teilen, zahlt die zweite Person 600 Euro).
Price: 2.000 Euro per Person.
(If two guests share a glass, the price for the second guest is 600 Euro).
Im Preis sind alle Weine, zwei Abendessen, ein Mittagessen sowie Wasser und Kaffee enthalten.
All wines, a three course luncheon and two six course dinners are included in the price.
Bei Interesse können Sie uns gerne unverbindlich kontaktieren unter:
Please contact us if you are interested.